Looking for an easy way of recovering your exam tables at a fraction of the cost? You need Table Treatments!
See how easy it is to bring back that brand-new look to your exam tables in the video below:


What is Table Treatments ™?
I've
 re-upholstered exam tables for many years but I thought that there should be a better way to get that new look without the down-time and the expense of full re-upholstery.
That's why I developed Table Treatments™ This is a full, Naugahyde cover made to perform exactly like original upholstery and constructed with the same materials used by the manufacturer, but designed to enable a person without upholstery skills to install it!
Click on the link below for cleaning and disinfecting instructions for Naugahyde brand vinyl:
http://www.naugahyde.com/files/faqdownload/CareandCleaningBrochureREV21318180215111752.pdf
Here are some examples of exam tables with our Table Treatments covers: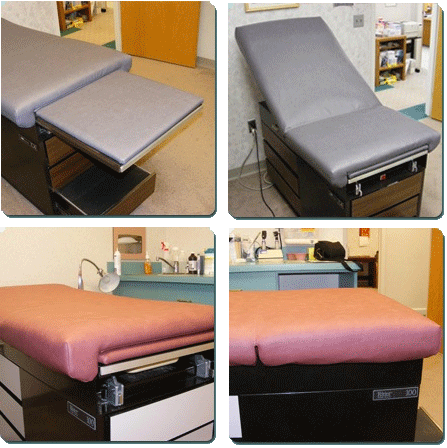 The table tops in the photos above certainly look like they were hand-tailored by an experienced upholsterer, so you might be surprised to know they all feature Table Treatments™ covers that you install yourself!
Are you looking for a simple and smart solution to the problem of cracked and worn out exam tables that saves you money? A Table Treatments™ cover brings a "like new" appearance to your exam tables without the down-time and expense associated with standard strip down and re-staple recovering.
Table Treatments™ tailored covers can be installed by anyone in just a few minutes, but they perform in every way like new upholstery! Concerned about stability? No need to be, Table Treatments is a custom-fit cover, made to fit your brand and model of table. Heavy binding combined with high strength straps and buckles are all out of sight when installed, and they insure a secure, tight fit. You'll be pleased with the results!
A cover for the main table and foot pad for the more popular brands of tables in use today is available in eight standard colors (colors shown below). Shipping cost are low because it folds neatly into a small carton. Please call for pricing on your table, quantity pricing is available.
So why do it any other way? I know you're going to be very pleased with the durability and long life the Table Treatments™ method of recovery provides!
COLOR SELECTION: Standard pricing noted above is for the colors shown below. Others available at extra charge.
(Please click the image to zoom in)
If we need Measurements for your table
We have patterns for many of the more popular tables found in medical offices, but sometimes, it becomes necessary for us to ask you to provide us with the dimensions of your table.
Please refer to the photo below to see the measurements we would need.
Start by positioning the table in the flat position.
Please measure only where the arrows start and end. For example, if you are measuring the width of the main table, start at one edge and go to the opposite edge and stop there, don't continue measuring down the side, that's the height measurement.
For the height, please give us the measurements for both the foot end and the head end as they may be different. Start from the bottom of the upholstered pad and go up to where it just meets the top surface of the table. If it's a soft curve at this point, you might find it easier to lay something flat (like a hardcover book) on top of the table overhanging the edge and measure up to the bottom of it.
PLEASE NOTE-ALL MEASUREMENTS IN INCHES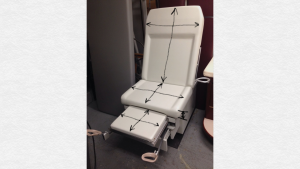 Re-upholstery of the following is always available:
• Chiropractic adjusting tables
• Medical examination tables
• Podiatry chairs
• Opthalmic chairs
Features:
• Upholstery shipped nationwide
• Top quality vinyls
• Soft and supple Faux leather
• High density foam
• Mechanical repairs
• Color matching
• Custom designs
• Multi-piece discounts
• All major vinyl brands like Naugahyde and Boltaflex